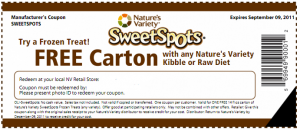 Usually when my dogs are eating my ice cream at home it usually involves them stealing a lick from my bowl of Chocolate Chunk. Who would have thought that dogs eating ice cream would be a good thing!
Now only will this treat taste good to your dogs, it is great for their health. These ice cream treats at 98% lactose-free, have whey-protein, and are enriched with live active yogurt cultures. That sounds like a gourmet dinner in the world of a dog!
Nature's Variety wants to give you a free carton of this delicious doggy treat with the purchase of any holistic diet.
Get Your Free Sweet Treat Coupon Here
Loved your free sample? Save $1 on your next purchase of SweetSpots!
Good Luck!
-Caitlin
More Related Offers: