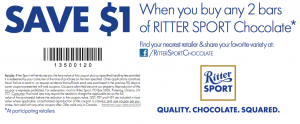 Ritter wants to celebrate 100 years of chocolate by giving you delicious chocolate at a great price. When you click on the link below, you will get access to a coupon that will let you save $1.00 on Ritter Sport Chocolate.
Not only do I love chocolate, but the fact that Easter is coming up is giving me another reason to dig in to this great deal.
What's your reason for buying the chocolate? Rough day at work? Or maybe you are rewarding yourself for rocking that presentation. Whatever your reason is, enjoy your chocolate! I know I will be enjoying mine 🙂
This offer ends on June 30th.
Good Luck!
-Caitlin
More Related Offers: