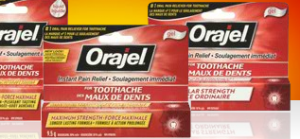 Whether it's for an adult, a child or a baby, Orajel has something that will get everyone's teeth shining.
Head to their website where you can save $1.00 on any of their products. This means you can buy great things like their toothache relief, baby teething gel, training toothpastes and so much more!
I hate those nasty canker sores that show up. I think I might spend my coupon on this product for fast relief! What Orajel product would you buy?
Happy Savings!
-Caitlin
More Related Offers: