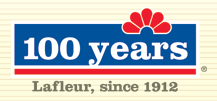 Lafleur has everything us ladies need for the perfect summer barbeque!
Save $1 on any Lafleur Authentique or Lafleur products.
I think I'm going to pick up some smoked sausages for the BBQ my neighbor is having this weekend!
Lafleur also sells all kinds of spreads that will give you that home cooking taste while you are on the go!
This coupon expires on December 31st.
Good Luck!
-Caitlin
More Related Offers: