SORRY! This Offer Has Expired!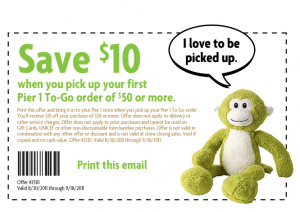 I think all of us ladies have been victims of the online shopping that steams off of boredom.
When you find that adorable dining set or candle collection and you want to make sure someone else doesn't snag them before you do, you can reserve it online. When you head to the Pier 1 store to pick up your items you can use this handy coupon to save $10!
This coupon expires on September 18th.
Good Luck!
-Caitlin
More Related Offers: