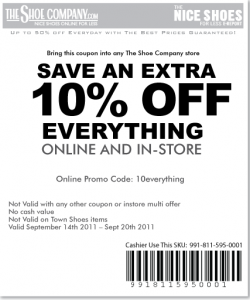 So I am starting to realize that sandal season is over, but I refuse to put them away just yet!
Maybe a pair of new (closed toe) shoes are just the motivation I need to keep my toes from getting frost bite.
Take this coupon into The Shoe Company and save 10% off of everything!
So whether a pair of boots, kid's shoes or some dress shoes for the holidays are in order, now is a great time to do some shoe shopping!
Coupon Expires September 20
Enjoy :),
-Sandra☆
Print Your Shoe Company Coupon
More Related Offers: