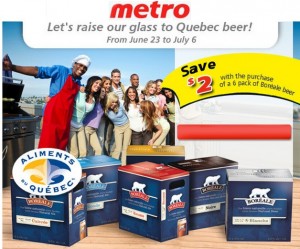 Bonjour les Quebecois!
If you missed out on the beer fest, there's a way to make up for lost time. It's a coupon for $2 off Boréale Beer. I'm a Molson drinker myself, but with a coupon offer like this, I can't resist.
Most of the convenience stores (or "depaneurs" as some call them) seem to have more beer in stock than they do milk or bread. I won't have any problems finding some in stock 😉
Saint-Jean Baptiste day may be over, but that doesn't mean you can't throw on a red and white t-shirt and celebrate Canada Day with everyone else. Holidays are an excuse to celebrate!
Coupon expires July 6th.

Cheers!
-Alyssa
More Related Offers: