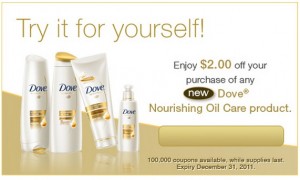 Yay, another Dove offer♥.
Print out this $2 coupon on their new Dove Nourishing Oil Care products. I haven't had a chance to try these out yet, but I saw them in the grocery store today and was intregued. Now that I can save $2, I'll probably just beat the feeling of curiosity and get one.
❗ There are only 100,000 coupons available. Print yours out quickly.
Thanks ladies,
-Alyssa
More Related Offers: