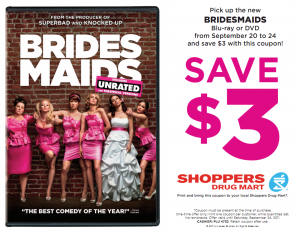 Last night my neighbour-friend picked up Bridesmaids on DVD and asked me to go over and watch it with her.
I wish I had found this coupon earlier so she could have saved some money!
Get a coupon to save $3.00 off the purchase of Bridesmaids on Blu-ray & DVD at Shoppers Drug Mart!
Just "Like" Shoppers Drug Mart on Facebook and claim your coupon!
Coupon is good until September 24.
Enjoy :),
-Sandra☆
Print Your Shoppers Drug Mart Coupon
More Related Offers: