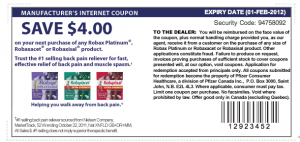 When back pain creeps up during the work day, there is pretty much no way to ignore it. This is where Robax comes in.
They are letting you save $4.00 on Robax Platinum, Robaxacet, or Robaxisal product.
So continue doing what ever you do – without back pain getting in the way!
Good Luck!
-Caitlin
More Related Offers: