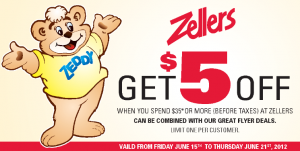 Zellers is a great one stop shop for all of your shopping needs. So whether you need to pick up some clothes, groceries or house hold items, they have it all.
With this coupon, you will be able to save $5 when you spend $35 or more at Zellers. This coupon can also be combined with other flyer deals for even more savings!
This is a great chance to grab some last minute summer clothes or update your backyard for that Canada Day BBQ!
This coupon expires on June 21st.
Good Luck!
-Caitlin
More Related Offers: