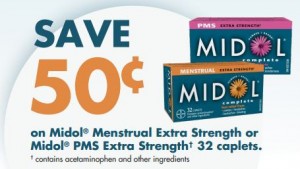 I knew Midol made Menstrual Medication, but I didn't know they had stuff for PMS too.
When it is that time of the month, I can use all the help I can get!
Right now print a coupon to save 50¢ on either Midol PMS or Midol Menstrual.
What a great way to try the product and save a little bit of cash too!
This Coupon Expires on September 30.
Enjoy :),
-Sandra☆
More Related Offers: