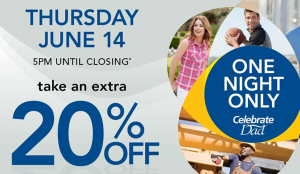 Father's Day is quickly approaching! Do you have a gift for dad yet? If you're stumped on ideas of what to get the old man, why not head to Mark's and pick up a couple of his favourite shirts or a tie!
For one day only, you can save 20% on absolutely everything in the store! Even those sale and clearance items that have already been marked down!
I think I'm going to pick my dad up a nice dress shirt, it never seems like he has enough! This made Father's Day shopping much easier. 🙂
This offer is valid from 5pm to close on June 14th.
Good Luck!
-Caitlin
More Related Offers: