SORRY! This Coupon Has Expired!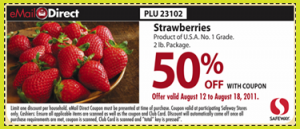 It's time to start saving and helping our environment. Who knew those would go hand in hand? When you print out your Safeway coupons, the will be made to fit on one standardized piece of paper, using less paper, less ink, less waste and more savings.
Try to enjoy those last days of summer with 50% off strawberries and ice cream. Or maybe you want to strut your stuff in your bathing suit? Save 50% on Eating Right Chicken Breasts and Pita Chips.
Want a bonus to all this great saving? When you spend $100, you will earn 100 bonus Air miles points.
There are so many other great savings and it's time to get your hands on them before time runs out!
These coupons expires August 18th.
Good Luck!
-Caitlin
More Related Offers: