SORRY! This Coupon Has Expired!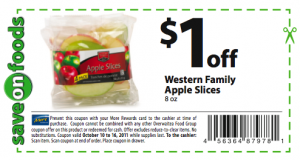 When you say big project due at work, exams or tons of appointments for the kids, you don't exactly think fresh cut vegetables and home cooked meals.
It's time that you got the best of both worlds thanks to Save on Foods!
They are offering you a coupon to save $1 on their pre-cut apple slices.
These are so good to grab and go, you can still get the kids to soccer and ace those exams with time to spare!
This coupon expires on October 16th.
Good Luck!
-Caitlin
More Related Offers: