SORRY! This Coupon Has Expired!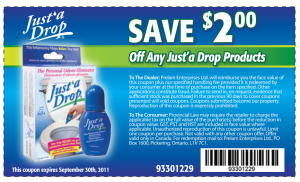 It's always nice to breath in the delicious scent of Refreshing Spring or Floral Oasis when you walk into the bathroom. This is exactly what Just'a Drop does – one simple drop in your toilet bowl and your bathroom will smell like anything but a bathroom.
Just'a Drop wants you to save $2 on their products. Print this coupon and bring it to the store today!
Your guests will be confused as to what room they walked into – a bathroom or a flower shop?!
Get Your Just'a Drop Coupon Here
Good Luck!
-Caitlin
More Related Offers: