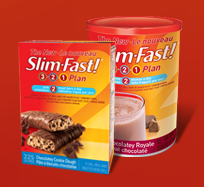 I think we've all tried those fad diets and most of them don't seem to work out in our favour.
It's the start of a new year so if you are trying to lose weight, give this a try!
Get in on the diet that works – Slim-Fast.
Right now you can get Slim-Fast Coupon Kit and SAVE!
It's so great that we finally have access to healthy food that tastes great. That's a good thing because those chocolate granola bars look too good to resist!
Enjoy :),
-Sandra☆
More Related Offers: