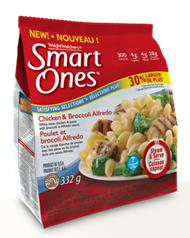 As much as I love to cook, there are some days where I don't feel like stepping foot near the kitchen.
But who says you can't eat great when you eat a prepared meal? Not Smart Ones! They have just released 4 new varieties with a unique steam bag technology. Who wouldn't want 30% more meat and veggies?
Get your 75¢ off coupon now!
Good Luck!
-Caitlin
More Related Offers: