SORRY! This offer is not available.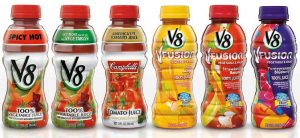 Are you getting your daily intake of fruits and veggies? V8 Juice wants to help you out by saving big on every single type of their drinks! They have 10 coupons that can save you $11 on anything from Original V8 cans to V8 Fusioin Tea bottles!
I haven't quite gotten into the entirely vegetable V8 drinks but I really like the V8 Fusion and V8 Splash drinks. They are so healthy for you and they taste great!
Good Luck!
-Caitlin
More Related Offers: