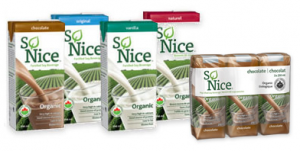 I've never really been into soy milk but these coupons are giving me the perfect chance to finally try it!
When you click on the link below you will be able to get access to two coupons. One will let you save 75 cents on one purchase of So Nice tetrapak or 3x250mL So Nice Single Serve packs. The other will let you save $2 when you purchase any three of the tetrapaks or 3-packs (3x250mL) of So Nice Single Serve.
I really like that the packaging of the tetrapak is so small. It's great for my cupboards that always seem to be jam packed!
Good Luck!
-Caitlin
More Related Offers: