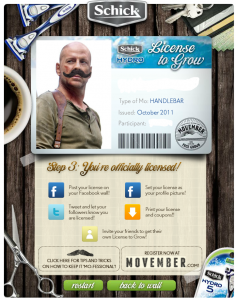 So ladies, this one is for the men in your life!
Some of you may like Movember because then our guys get to grow out their moustaches for a worthy cause. Others, like myself, think that it looks ridiculous on some guys and don't like the way it feels.
No matter how you feel about it, it happens every year in the month of November.
This year "Like" Schick Hydro Canada on Facebook, create a licence to grow and get two fantastic coupons that you will want to exercise at the end of the month.
Save $2.50 on the purchase of a Schick Hydro razor and save $2.00 on the purchase of Schick Hydro refill pack.
That should be enough to get the hair gone by December 1.
Enjoy :),
-Sandra☆
More Related Offers: