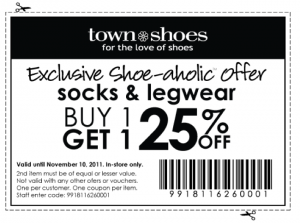 Are you a shop-a-holic? You might not be sure if you have this wallet emptying addiction. Well a shop-a-holic is someone who has an irresistible urge to shop, whether it be shoes, clothes or house hold items.
But you don't have to worry! Although there is no foreseeable cure for shop-a-holism, there are certain steps you can take so you can save a couple dollars.
When you head to Town Shoes you will save 25% on your second sock or legging purchase!
Happy Savings!
-Caitlin
More Related Offers: