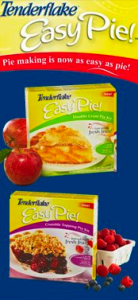 When someone says it's easy as pie, they literally mean it when they are talking about making Tenderflake pies!
Head to Tenderflakes Facebook page to get access to a coupon that will let you save $1 on their Easy Pie kits!
I absolutely love making Apple Pies but I don't make them that often simply because it takes so much time. With Tenderflake I can enjoy my home made pies without feeling like it took all day!
Good Luck!
-Caitlin
More Related Offers: