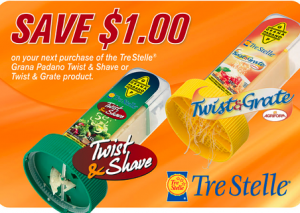 Are you a fan of parmesan on your pasta? Pizza? Or maybe you prefer it on a nice piece of toast. Whatever way you like to have your cheese, you could be saving $1!
Head to Tre Stelles Facebook page where you will get access to a coupon that will let you save $1 on either Twist & Shave or Twist & Grate.
I have also never seen those great cheese graters attached onto the package like that! It seems like such a simple solution to that annoying cheese grating you have to do. I will definitely be using this coupon so I can try out those new fancy graters!
This coupon expires on December 31st.
Get Your Tre Stelle Coupon Here
Good Luck!
-Caitlin
More Related Offers: