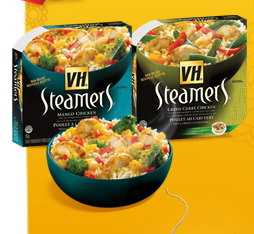 This offer has EXPIRED.

There are some days where I am on campus for 12 hours and it's quite the rush in the morning trying to gather together a lunch and snacks to eat.
If you are on the go like me then you should check out the VH website to see all the great coupons that they have. You can grab a coupon that will let you save $2 on a VH Steamers meal, or buy one and get the other free or buy one and save $1.
I've never tried a VH Steamer but it looks to be a lot more appetizing than the peanut butter and jelly I have sitting in my bag!
This coupon expires on March 5th.
Good Luck!
-Caitlin
More Related Offers: