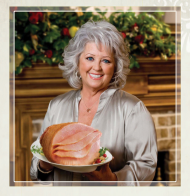 Are you planning on having your family over this christmas season? If so, you might be a little anxious about hosting a party for the 20 relatives that you have. But there is really no need to worry, because Paula Deen has created a Holiday Hosting Guide that really anyone can use in order to make a party even Martha Stewart would be envious of!
This holiday guide has tons of great tips that range from delicious recipes, to beautiful center pieces and even how to create the perfect party on a budget (I'll be zeroing in on that section!).
I love her idea to have an ornament making party. What a great way to keep the kids occupied and in the kitchen!
Good Luck!
-Caitlin