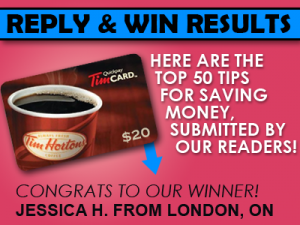 Thanks to the participants of our WomenFreebies Great Money-Saving Tips "Reply & Win" contest in our newsletter last week. Here are the top 50 GREAT Money-Saving Tips submitted by our readers. 🙂
WomenFreebies is having "Reply & Win" contests in every newsletter, so check your next newsletter for more chances to WIN with WomenFreebies!
Not subscribed to our newsletter and want to participate in future "Reply & Win" contests? Then just sign up for our newsletter:
Click HERE to Sign Up to WomenFreebies Newsletter
Enjoy $aving! 🙂
Annette ❀


50 Money-$aving Tips
To cut costs on expensive wrapping paper, buy gift bags! Gift bags are re-usable and actually better for the environment compared to regular wrapping paper! – Gwenn

Before buying that 2 or 4 pack deoderant or anything else for matter, check the price of the single one. I have found that sometimes it's cheaper to just buy 2 singles than the double pack – Chellie T.

I gather all my local weekly flyers and price match the items at my favorite store! – Shauna H.

Use newspaper sleeves for dog walks to "clean as you go"! – Beth C.

Make a list before going shopping and stick to the list. This will help you to avoid impulse buying and save you money. – Della

Use coupons whenever possible and only buy items that are on sale. A little research before my shopping trip always saves me money! – Chantel

Get connected with all the free stuff available, as well as the money-saving coupons by joining mailing lists. – Liz

Make sure you have a budget so you can understand what you are earning compared to what you are spending. – Jesseca E.

To extend the life of your soap, put the small pieces of the bar soap in a pump dispenser with a little water. – Teresa E.

If you cut eating out 1 time per month, you can save at least $40. – Aundrea L.

My favourite money saver hands down is the price matching some stores offer! – Stacey

Plan your meals around the sales in the weekly flyer and use coupons. – Kathy

Take all the change you have around the house & you put it in a bank or a jar which you don't take money from, and at the end you will end up with a lot more than you expected. – Paige

Keep a weekly budget and include everything you spend within this budget, watch your bank account down to the penny. – Jasmine H.

I go right to the back of the store to check out the reduced price bin before starting my shopping trip. The best part is that you can still coupon reduced items and get the product virtually free! – Deanna

Re-use zip-lock freezer bags, as long as they don't contain meat. Wash them inside-out, let them dry and re-use. – Jackie H.

I keep an herb garden growing year-round inside the house and in the summer; we plant everything we have room for. – Louise S.

Baby wipes aren't just for babies!! Great for removing make-up, some stains on clothes, dusting, and much much more!! – Amber M.

One way we save money in our family is to turn the water off while we are sudsing our hair during washing, and we don't turn it back on until we are ready to rinse. – Patti K.

A nice money saver is used dryer lint makes great fire starters for the fire place! – Cheri

Combine your car trips into one trip to use less gas. – Vayla

Use a Brita or similar water filter system instead of buying bottled water and you will not only save money but help save the environment. – Christina

Bring your own reusable shopping bags. Not only are they better for the environment, but some stores now charge for bags so you get to save some money too. – janice F.

Ensure that any electrical appliances that are not in use should be unplugged. Not everyone knows this, but there is still electricity going thru your cords and costing you money. – Debbie P.

Pay with debit or cash not credit, that way you don`t spend what you don't have and therefore don`t have debt! – Jolene H.

Recycle dryer sheets (Bounce, Fleecy, etc.) as dusting cloths after use in the dryer. – Darlene

Hi, my money saving tip is using vinegar or vinegar and a little dish soap for all your cleaning needs. – Barb B.

Pack a "snack pack including candy and juice boxes" when taking children to the movies. – Joanne W.

Whenever I use a coupon in the grocery store I come home and put that amount that I saved in the piggybank. – Patty

To keep one's skin moist, instead of spending a fortune on brand name products use some pure virgin olive oil instead. – Rhonda A.

My money and energy saving tip is to buy iridescent energy saving light bulbs with a dimmer. – Lexy L.

I make Christmas gift tags using Christmas cards I receive every year. I NEVER buy gift tags. – Shelly M.

Put 10% of every pay check and deposit it into a separate account. – Semica P.

Hit up the local second hand stores. You can often find almost brand new items for super cheap. – Michelle D.

When using dryer fabric softener sheets try ripping them in half… they work just as well and last twice as long. – Michelle B.

When you leave a room, switch the lights off. You'd be surprised how much electricity you save! – S.D.

Collect coupons and trade with friends/co-workers for ones that you would use. – Carol M.

If you use Blistex on pimples (instead of Acne wash)…. it dries them up beautifully. – Robin B.

Take your own coffee to work instead of stopping to buy one. – Lorac R.

Why buy compost for your garden? Make your own by composting all your organic waste. – Jackie T.

When you are about to apply your blush, don't add more on the brush right away, there's almost always enough on the brush leftover from the previous use to give you a nice glow. – Nicole A.

I have a mesh bag that I have had for years now and I use it to place all those pieces of soap that become too small to use in the shower. Once I have 8 or 10 pieces of soap in there, I tie the bag and use it in the shower. It lasts a long time and the mesh bag helps exfoliate my skin. – Todd B.

Our biggest money saver in our home is to buy bulk whenever we can. – Mary S.

Bring a lunch instead of going out to eat every day which adds up pretty quick. – Joanne D.

Use decals and vinyl to decorate your kids' rooms. It's cheaper than paint. – Marie M.

Shaving gel cost can add up but if you want smooth legs try inexpensive hair conditioner. – Kim S

Turn boring leftovers into an entirely new dish! – Mishel L.

My money saving tip is to never go to the grocery store hungry. You will not make impromptu purchases because your tummy is growling. – Margot R.

My money saving trick is always practice the 3 R's (Reduce, Reuse, Recycle). – Adrienne S.

Making your own baby wipes – 1/2 roll of Paper towels – 2 cups water – 1 tbsp. baby wash & 1 tsp. baby oil :), use a baby wipes container & voila! – N. C.