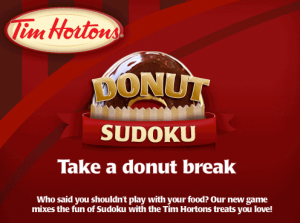 How about a donut with your coffee? Don't want the consume the extra calories, try out Tim Hortons' Donut Sudoku!
Instead of using numbers they give you 9 different types of donuts to work with. All the other rules of Sudoku are the same.
I have to admit I am addicted to the Donut Suduko. I really could go for an apple fritter right now!
Enjoy :),
-Sandra☆
More Related Offers: