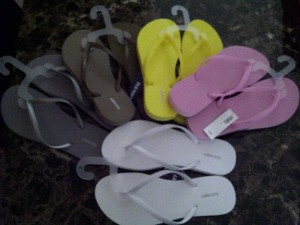 If you remember my post last week about the One Day Wonder Old Navy Flip Flops, then you will be interested to see what I got!
On Saturday morning, I got up at 6:30 AM to be at Old Navy for store opening at 7 AM to get my favourite flip flops for only $1.
There were quite a few people waiting outside the store to get their flip flops too. But since I was one of the first people there I got a great selection of both colour and sizes and saved $20 on my five pairs of flip flops (there was a limit of 5 per person). Now I'm ready for summer! 😉
This of course was a one day sale, so it's no longer available, but check out the great Old Navy coupon to get different savings!
Enjoy :),
-Sandra☆
More Related Offers: