SORRY! This Offer Has Expired!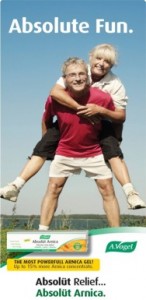 Absolüt Arnica gel helps relieve joint pains and I'm sure we've all experienced it at some point or another. Right now you can order a free sample to keep for yourself on the days when the discomfort gets to you. I filled out my grandmother's address so that she can get the free sample.
I've actually been experiencing joint pains as of recently, but she needs it more. I love surprising her.
:!:Click YES to both questions on the site to access the request page.
More Related Offers: