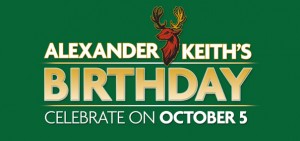 Take a quick quiz on Beer for a chance to WIN a $500 Gift Card for The Duke of Devon Pub!
As a thank you for helping them out with the quiz, they'll give you a voucher to redeem for your complimentary Alexander Keith's Birthday Made to Share pack – holding 2 bottles of Alexander Keith's India Pale Ale.
Yes, I said it all fancy but Ladies, this is FREE BEER!
Alexander Keith's Birthday Made to Share
☺
~ Emma
More Related Offers: