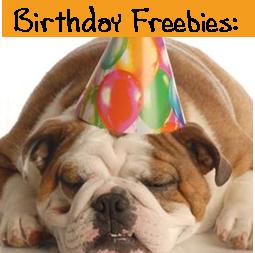 Today is my birthday, so I thought I would share all the freebies and coupons I have received in my inbox over the last week.
By being a Starbucks Card Rewards member, I get a free birthday beverage on the day of my birthday by presenting the card I got in the mail!
Since I am a member of Booster Nation, I received a coupon for a free Regular Size Smoothie to be used the week of my birthday!
mmmuffins sent me a coupon for a free birthday cupcake that I can redeem up to one week after my birthday!
RW&Co is giving me a great deal. With the coupon they sent me I can get 25% off the lowest ticketed price on all merchandise for the week of my birthday!
By being a Beauty Insider, Sephora gave me a coupon to claim a free birthday gift. This year it was two sample sized lip balms.
Red Lobster rewards all their Fresh Catch Club members with a coupon for $5 off two entrees good for the month of your birthday.
I got a coupon from Boston Pizza to claim a free pasta dish or dessert in the weeks to follow my birthday.
This is always one of my favourite birthday treats! Get $10 off a purchase of $25 or more at Ricki's! Amazingly the coupon is good until November.
Fruits & Passion wants me smelling nice on my birthday with a coupon to save 20% off my purchase!
Dairy Queen wants to give me a sweet treat for my birthday with a BOGO coupon on Blizzards!
Enjoy :),
-Sandra☆
More Related Offers: