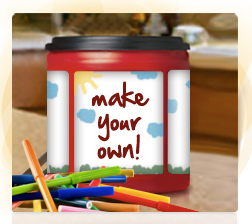 This freebie is a great win-win! You get to drink the goodness of Folgers coffee and the kids have a great (free) activity to keep them occupied!
They give you tons of great backgrounds to choose from, and tons of great fonts and colours to type your personalized message with. Voila! Coffee cans doubling as art work. 🙂
What a great present for grandparents!
Good Luck!
-Caitlin
More Related Offers: