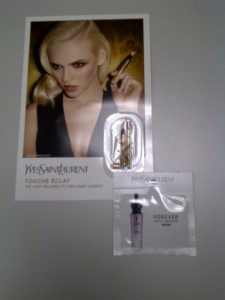 I ordered the free sample of Yves Saint Laurent's Forever Youth Liberator about a month ago and it came today!
Not only did they send me to serum that is suppose to remove years off the appearance of your face, but they also sent me a free sample of Touche Éclat!
This Touche Éclat can be used to bring light to various areas of your face!
I can't wait to see how they look on my face. 🙂
They are all out of this sample, but if you become a member with YSL for free, you will get a free birthday gift among other great benefits!
Enjoy :),
-Sandra☆
More Related Offers: