SORRY! This Offer Has Expired!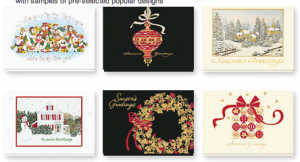 It's that time of year again: Christmas trees, lights, parties, presents and so much more.
If you are feeling a little overwhelmed with everything Christmas related you have to do, you can relax a little because The Gallery Collection is helping you out with the Christmas card part.
Request up to six free samples of their holiday cards to see which ones you like the best, then you can be sure when you buy that you are sending out the perfect cards you love!
Good Luck!
-Caitlin
More Related Offers: