SORRY! They Have Run Out of Samples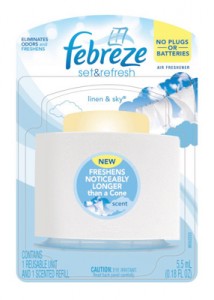 Febreze is giving away 53000 free samples of their set&refresh. It freshens for 30 days and you can't go wrong with that! I just LOVE the feeling of friends coming to visit, and comment on how great our place smells.
I think this time I'll keep the secret to myself. 😉
Collect your freebie on the Febreze Facebook page by clicking 'like' and requesting your sample. There's a limited amount to be given away.
Thanks ladies,
-Alyssa
More Related Offers: