SORRY! This Offer Has Expired!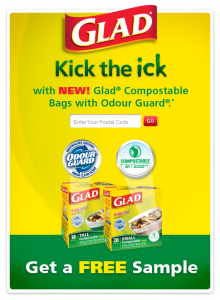 We have all had those days. You empty out the leftovers in the fridge into the garbage and an hour later your kitchen smells of old food. You don't want to throw out a half used bag but you don't want you house to be filled with the aroma of last weeks meatloaf. GLAD now has something for you to try!
Get a Free Sample of GLAD's Compostable Bag with Odour Guard! I am curious to see how well this works.
Now do they have anything to get rid of last week's smell right now?
This offer only works in certain cities, but it doesn't say which ones on the site.
Enjoy :),
-Sandra☆
Request Your GLAD Compostable Bag Sample
More Related Offers: