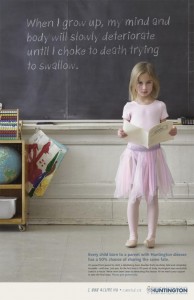 I work with Women Freebies in our advertising and sales department. A few short years ago, I knew nothing about Huntington Disease. However that changed the day my mother tested positive. That was the day my entire world changed; it was the day our family was forced to realize that things would not be the same anymore and that our journey through life was going to be a very difficult one.
This is a quote from The Huntington Society of Canada Website
"Huntington Disease is an inherited brain disorder that causes progressive deterioration of the physical, cognitive and emotional self, leading to severe incapacitation and eventual death 10 – 40 years after onset of the disease. Each child of an affected parent has a 50% chance of inheriting the Huntington Disease gene. There is no cure and no effective treatment exists, but scientists continue the search."
Over the years I have come to understand the devastating effects of Huntington Disease and the pain and anguish it causes not only in those inflicted with the disease, but in those who are forced to witness the deterioration of their loved ones as they are robbed of their dignity and self-esteem. For my sister and I, living with the possibility that we too are positive for Huntington Disease has complicated our lives and necessitated life altering decisions that appear to have no upside. Deciding whether to undergo testing only to confirm our worst nightmare or avoid testing and go through life believing we too will fall prey to this terrible disease. This dilemma on our minds every single day, yet we struggle to adopt a philosophy that in some miraculous manner will allow us to live life to its fullest.
All we have left to hope for is a cure and that is where you can make a difference.
Make a Donation at Huntington Society HERE
In anticipation of your caring spirit and much needed support, I thank you from the bottom of my heart.
♥ Amanda
More Related Offers: