SORRY! This Offer Has Expired!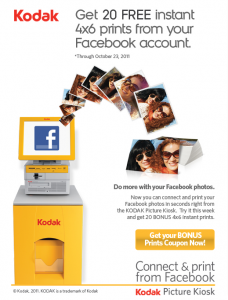 These days we publish the photos of all the major events in our lives including, marriage, birth of a child, new home and travel experiences on Facebook for all our friends and family to see no matter where in the world they are.
Kodak wants to merge the old and the new with this free print offer!
"Like" Kodak on Facebook and get a coupon to get 20 free prints from your Facebook account at a Kodak Picture Kiosk.
I use these kiosks whenever I print out my pictures and you can find them in the Loblaws as well as Walmart.
This offer expires on October 23.
Enjoy :),
-Sandra☆
Claim Your Kodak Free Prints Offer
More Related Offers: