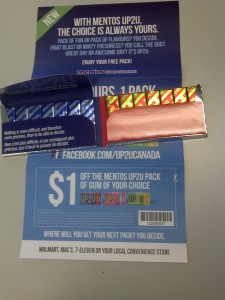 Yesterday I opened my mailbox and inside was a blue and red envelop.
About six weeks ago I request a free sample pack of Mentos' new Up2U gum and it arrived yesterday!
Inside the package of gum are two flavours: mint on one side and berry watermelon on the other. So whether you are looking for minty fresh breath or something tasty to chew on, this pack of gum has it all.
It also came with a $1.00 off coupon so you can try one of the other great tasting flavours.
I can smell the flavours from outside of the packaging, so I can't wait to see how it tastes!
So which one is your favourite, fruity blast or minty freshness?
The Mentos giveaway is now over, but if you love free samples, make sure you get this Motrin free sample!
Enjoy :),
-Sandra☆
More Related Offers: