SORRY! This Offer Has Expired!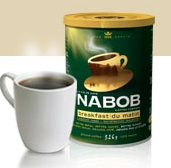 French Vanilla, Private Blend, Espresso, you name it – I love it. I've turned into a huge coffee fan and now it seems almost impossible to go a day without sipping on a cup of joe.
Enjoy the Nabob coffee you love (and discover some new flavors) at their complimentary coffee tasting events.
Simply check their website out to find a location near you. I know what I will be doing with the co-workers tomorrow at lunch. 🙂
These events end on September 11th.
Good Luck!
-Caitlin
More Related Offers: