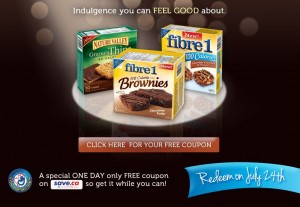 I think it's pretty obvious that I want to try the Fibre 1 Brownie Bars given the choice between that and granola thins. It's chocolate, of course that's the one I want! 🙂
But you can't complain about a free box of snacks that are health conscious too!
Just "Like" Life Made Delicious on Facebook and get your free coupon to redeem on July 24!
This coupon is to be redeemed on July 24 Only.
Enjoy :),
-Sandra☆
More Related Offers: