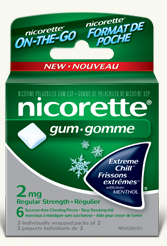 This offer has EXPIRED.

Have you been having some trouble trying to quit that nasty smoking habit? Well now is the perfect time because not only is it the time for resolutions for 2012, but Nicorette is offering you a free sample of their Extreme Chill gum.
Head to their Facebook page and you will get access to your free 2mg sample of their coolest gum yet.
My friend has been trying to quit his habit but just hasn't been able to, maybe this is just the freebie he needs! 🙂
Good Luck!
-Caitlin
More Related Offers: