SORRY! This Offer Has Expired!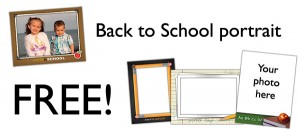 Back to school is such a busy time of year for parents as well as students. It can be so easy to forget to take the time to look at how adorable your kids look in their new back to school clothes!
Head to Blacks to get your free back to school 6×8 portrait. There are quite a few frames to choose from so you will surely find one you like! 🙂
My mom always used to take a picture of me on the first day of the school year and put all the pictures in a scrapbook. It was such a nice keepsake and was awesome to see how I had changed over the years!
Good Luck!
-Caitlin