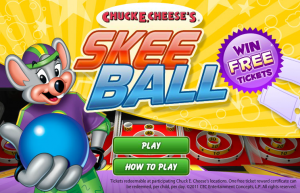 Now that summer is here it is time to try and find ways to occupy the kids.
Chuck E Cheese was one place I loved when I was a little girl and you can win some extra tickets to take with you the next time you go.
Play a quick game of virtual skeeball and you can win up to 40 tickets for you to print and redeem next time you are in Chuck E Cheese!
Enjoy :),
-Sandra☆
Play Skeeball with Chuck E Cheese