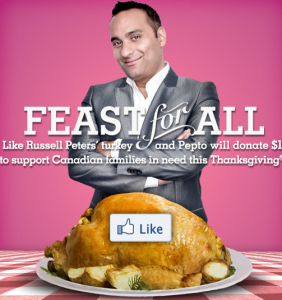 Take a moment this Thanksgiving to help support Canadian Families that cannot afford to put food on the table.
Pepto-Bismol Canada wants to donate $25,000 this Thanksgiving to Food Banks Canada and they need your help to do it!
"Like' Russell Peters' turkey on Pepto's Feast for All tab of their Facebook page and for every like they will donate $1.00!
What a great way to make our Facebook "Likes" count for Canadian families.
Happy Thanksgiving! 🙂
Enjoy :),
-Sandra☆
More Related Offers: