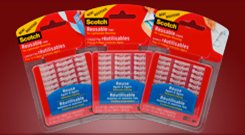 Scotch knows how to bring out the contests at the perfect time!
With everyone getting ready to head back to school next week, the shopping centers can look a lot like a zoo. Scotch is trying to make it a little bit easier.
Scotch is also giving us the chance to win $500. All you have to do is tell them how you use Scotch Brand Reusable Tabs and Strips. I use them to stay organized during exam season – what about you?
Get Your Scotch Sample Here and Enter to Win
Good Luck!
-Caitlin
More Related Offers: