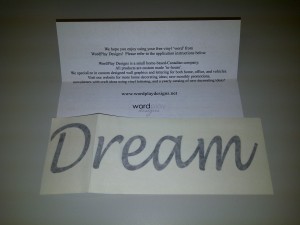 Look at what came in the mail the other day!
I got my free word from WordPlay Designs!
The random word they sent me was DREAM in black cursive writing.
I think I will cut out the letters and put them on blocks as part of a craft project!
I am very please with this freebie and I can't wait to turn it into something wonderful for my home. 🙂
WordPlay is still giving out free words so request yours today!
Enjoy :),
-Sandra☆
Request Your Free Word from WordPlay
More Related Offers: