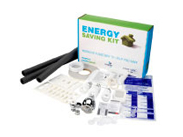 In this day it's really important to do all we can to help save our environment. Sometimes it can be hard to know where to start when it comes to enviro-proofing your house.
This is where Fortis BC comes in. They are giving you a free energy saving kit that will not only help you save the environment, but also help you save $115 a year!
The kit comes with a low-flow showerhead, faucet aerators, weatherstripping, window film, pipe insulation, outlet and switch gaskets, hot water gauge, compact fluorescent light bulbs (CFLs), a fridge and freezer thermometer, and efficient night light.
Good Luck!
-Caitlin