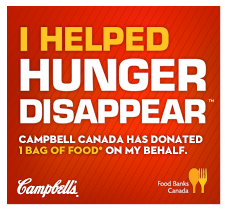 Hunger is a real issue no matter what country you are from. It may be hard to know where to start when it comes to helping others but Campbell's is making helping quick and easy, just with a click of a button.
Head to their Facebook page and 'like' the picture that is similar to the one shown here and Campbell's will donate one bag of food on your behalf.
One bag of food is equivalent to 5 pounds of food so you really don't want to miss out on this chance to help. You can also find out what stores near you are also supporting the cause and how else you can help.
This offer ends on July 31st.
Enjoy!
-Caitlin
More Related Offers: